To all sports lovers
As many of you know, I have been playing women's flag football for over 13 years.  The league here in Vancouver has 16 teams and on average 12 players per team.  That is over 200 women playing flag football in the lower mainland.  We have two seasons, spring and fall and each season is nine weeks long.  We also have a tournament based in Burnaby every year in May called Maybowl, that brings teams to Vancouver from other leagues in BC.  As well as an away tournament that is held every June on Vancouver Island called Sunbowl.  The Sunbowl has 22 teams join the tournament each year, with 10 spots going to the host league teams, several teams from Vancouver, Victoria, and Calgary attend as well as every year the USA National team from Texas makes the trek up here to kick every ones butt and take home the top prize.  Rumor has it a second US team is coming this year as well.
Why am I telling you all this?
Our team, The Panthers, is in desperate need for two things.  We need team jerseys and we need help getting to the island tournament this year.  So we are asking for your help.  Good news is we have options for how you can help.
There are two ways you can help us. 
Are you a potential sponsor? (read below)
Or do you love cookies? (skip to next part)
Our team would really like to all have matching jerseys but with the costs of our seasonal league fees and tournament entrance fees our girls just can't afford to buy them.  So the only way to make this happen is to get sponsors.  We can place your company logo on the jersey for recognition and exposure.  Do you know of anyone who may be interested in sponsoring a women's flag football team?  We have split the sponsors into 3 tiers.   Our dedicated jersey colour is black and is registered with the league.  I have attached a potential layout for your sponsor logo placement.
We must find sponsors for all the spots by April 24th to make this happen. Please share this information with everyone you know. If you are interested in supporting the team, I need your logo in vector format at the time of commitment. In order to have the jerseys ready for Sunbowl we have to place the order by April 26th.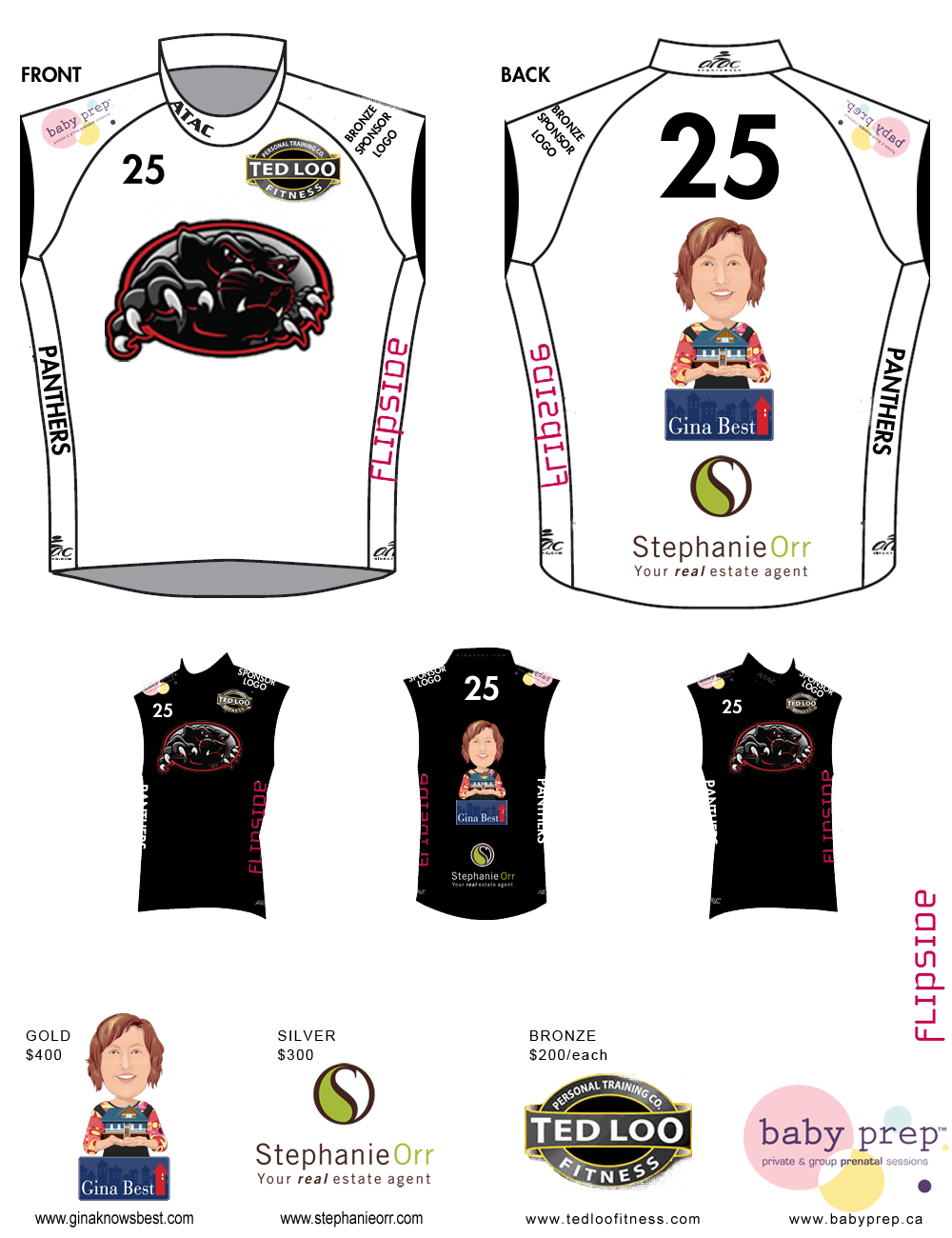 Gold Sponsor: $400 (FILLED)
Back Centre Middle
Gina Knows Best: www.ginaknowsbest.com
Silver Sponsor: $300 (FILLED)
Back Centre Bottom
Stephanie Orr: www.stephanieorr.com
Bronze Sponsor Front: $200
2 1 Sponsor Spot Remaining
– Front Left Top
– Front Right Top(FILLED)
Ted Loo Fitness: www.tedloofitness.ca
Bronze Sponsor Arm: $200
2 1 Sponsor Spot Remaining
– Arm Left(FILLED)
Baby Prep: www.babyprep.ca
– Arm Right

Calling all Cookie Lovers
What can you do personally for us?
We are doing a little fundraising to cut back on the costs for the June tournament.  We have sold cookie dough batter from a local downtown company called Cookies of Course in the past with great success.  This company sells cookie dough by the bucket, whole coffee beans, as well as baked cookies by the dozens.
–       Cookie Dough Buckets:
2.5kg ($26.95) or 5kg ($44.95) buckets in 17 flavours.  (2.5 kg = 50 cookies | 5kg = 100 cookies)
–       Coffee Beans: 1lb ($14) or 5lb ($65) bags in 2 different roasts
What the heck do you do with 2.5 kg or 5kg buckets of cookie dough?
You can either give them as gifts and can be frozen.  OR, I will share a secret that my mother taught me.  Spend a few minutes and roll them all into cookie dough balls and lay them out on a baking sheet.  No need to evenly space them, just pack them on there.  Then, place the whole baking sheet in the freezer and freeze them over night.  The next day, put all those pre-rolled balls into a freezer bag and leave them in the freezer.  Now, you have 100 cookies already made and you can just pop some in the oven whenever you want them or need to impress someone.  In my experience, the cookie dough doesn't last long enough in the freezer to go bad….yum.
How to order?
It is really easy.  Go here: https://cookiesofcourse.ca/fundraising.php and check out your options
MAKE SURE that you put in "Panthers Football" for the fundraising group.
If you want to avoid the delivery fee and only if I see you on a regular basis I will gladly pick up your order and bring it to you.  Just go to the website and fill out the form.  In the area for your "Delivery Info", beside your name put "(no delivery)" and that will indicate that I will pick up the order. If you do not put "(no delivery)" beside your name, then you will be charged the $7 delivery fee and the order will be sent to your address shortly after you place your order.
We will only be doing one massive pick up on June 11th, so all orders with no delivery must be placed by June 1st, or they will be subject to the $7 delivery fee.  You can expect your goods at that time if you want me to deliver them. You can also reorder at any time for delivery throughout the year.  Whoo Hoo.  So keep ordering all year long to help support the team. (** Delivery is CURRENTLY available only on Bowen Island, North and West Vancouver, Burnaby and Vancouver.)
Thanks tons for considering to help out The Panthers.  Lovely Women playing sports with GUSTO.
Jackelyn Thompson