Well, I have been back in Canada for just over a week now.  I am finally caught up on the emails and getting back down to business.  I will be in full swing on Monday.  Since I have been off work for a few weeks now, I thought that I would blog about my adventures in Europe and take you along the adventure with my husband and I.  So I will do a pseudo diary format in order to share the fun with you all.
Day 1: Alone in Munich
I arrived in Munich on Friday late evening.  I wasn't meeting Rob until Sunday night, so I had a few nights in Munich all to myself.  Once I arrived at the airport I made my way to the subway so I could take a ride into the city and find my hotel.
I carted my giant yellow suitcase down to the subway and attempted to by my ticket.  The ticket purchasing is much more complex than our system, and after a few minutes of trying to figure it out, I decided to just purchase whatever ticket came up first and pray that no one asked to see my ticket.  The ticket cost about $10 which I was told was the cost to get from the Airport to downtown, so I figured, even if it wasn't the correct ticket, I at least spent the correct amount attempting to purchase the right ticket.  Let's be honest, how mad can you get at a foreign who doesn't speak any German, sitting on a large hardcase yellow suitcase? That's what I thought…
So, I hopped on the next train and rode the 40 minutes into the city, checking out the countryside all the way into town.
Once I arrived at the main train station, I hopped off the subway and made my way up to the nearest exit.  I knew that my hotel was only a block or two away from this station, but what i didn't realize was how stinking big this train station was.  I guess I should have expected it having spent a lot of time in Japan.  Those are big train stations and depending on what side you come up, you are a few blocks away…LOL.  So, I asked for some help on where this street was and I was promptly pointed in the right direction.  As I walked through the main station to the other side and crossed the street I was walking into another universe.  Across the street from the main station, was a street of strip clubs and lap dance joints.  hmmm…is this where my hotel was?
I know the reviews for the hotel did mention this, but I was shocked by just how many of these establishments there were.  The hotel I stayed at: The Maritim Hotel München was literally 1/2 block away from the main station and set back from the main street in this inner courtyard.   This shielded the hotel from what was on the street.  The hotel was fantastic.  It was clean and quiet and the staff were above and beyond friendly.  I would definitely stay at this hotel again and again.  Its location was ideal for sure, even with the strip clubs at the entrance.
So I checked into the hotel, cleaned myself up after the long flight from Vancouver to London to Munich.  Then I decided to go for a walk and do some exploring.  I walked down the strip club street and all around the hood….and after an hour or two, ended up back at the main train station where I grabbed dinner.  The most delicious tomato and mozzarella panini, Paprika Pringles and some fruit.  I want to know why we do not sell Paprika Pringles in Canada…I would be their best customer for sure. YUM!!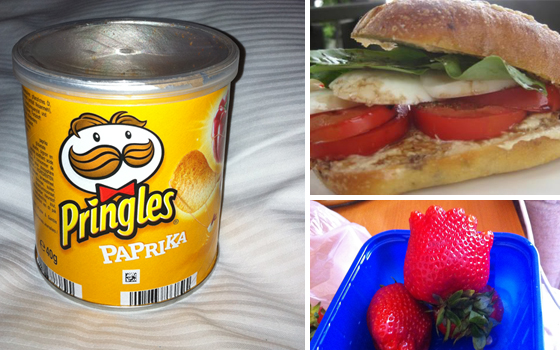 Time to return to the hotel and eat my dinner and get a good night sleep…so I walk back down strip club lane to my hotel and the music is blaring from all these establishments…yowzers.  Luckily, the hotel was very quiet and I had a great night sleep…stay tuned for Day 2.