New Requirements Are Coming… What Do They Mean to You if Anything?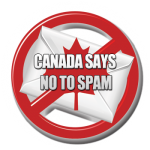 Do you send out newsletter campaigns to your clients or colleagues? Do you collect business cards at trade shows to get people onto your mailing lists? Do you use applications such as Constant Contact or Mailchimp to send any electronic messages to any recipient with out explicit documentation expressing their permission for you to do so? If you answered 'yes' to any of these, then you should be aware of the ongoing debate of the incoming Anti-Spam laws in Canada.
The Canadian Government has recently unveiled the blueprints for its new and long delayed regulations that are to enforce the anti-spam laws enacted back in 2010 with Bill C-28.  However, the story is long from being concluded thanks to special interest groups and the intense lobbying from businesses. Fear mongering about so called job loss as a result of stricter laws are the plea from businesses. Really? The crux of the regulations really come down to the fact that businesses would need us to check a box and consciously opt-in to receiving communications instead of the current "you need to unsubscribe" method to stop the SPAM.  If businesses are onboard with having the approval of their customers before sending them electronic commercial messages then there should be no conflict. But they are telling the Government that they are not ok with this and in my opinion, this means that they don't care if you want there solicitations, they want to send them to you anyways.  Of course they would fear this for they know that if asked, many of use would say, "no thank-you" to their messages.
Given those fears, Industry Minister Christian Paradis faced considerable lobbying pressure to water down the law through the regulatory process. Earlier this month, he caved to some demands by introducing a host of new exceptions that limit the effectiveness of the opt-in model.
For example, the regulations include a broad new exception for third party referrals that will allow businesses to send commercial electronic messages without consent based merely on a referral from a third party. This issue was hotly debated when the law was being drafted and, at the time, the government rejected claims that such an exception was warranted.
The new regulations also include an expansive definition for a "personal relationships" exception that is likely to be used by organizations to send unsolicited commercial messages based on limited contact. The flexible definition of personal relationship may open the door to claims that Facebook "likes" or similar social media contact is sufficient to constitute a personal relationship. 1
Some of the minimum requirements of the proposed regulations for Canada's Anti-Spam laws:2
Definition of CEM: Commercial Electronic Message is any electronic message (email, SMS, and messaging through a social network platform) that encourages participation in a commercial activity, regardless of whether there is an expectation of profit.
Identification of Sender: All entities on whose behalf a CEM is being sent must be identified.
Sender's Civic Mailing Address:  Civic addresses must be disclosed in the CEM, and street addresses must be valid for 60 days after the CEM is sent.
Unsubscribe Mechanism:  Readily performed; simple, quick and easy. For example – a link in an email, SMS or message, where recipient of CEM can 'unsubscribe' from receiving CEMs from the sender; or texting 'stop' to a SMS.
Consent Obtained in Writing:  Paper and electronic formats permitted. CTC must be able to subsequently verify written consent received.
Consent Requests: Requests must be clearly identified and not bundled with requests for other consents (i.e. not bundled in clicking to agree to terms of use). A separate tick box methodology is required.
As mentioned, the regulations to enforce the legislation of Bill C-28 are far from becoming law and there could be many revisions before it is implemented. Assuming the regulations are finalized in 2013 and the law becomes operational in 2014, businesses will have been given seven years to ask Canadian consumers if they consent to the use of their personal information for marketing purposes. Stay tuned to future blogs where we will keep you up to date as to how this will play out and how it may effect your business before you start revamping your contact list databases.
Get Jacked Marketing having extensive experience working for and in industry within Canada, has the knowledge to provide its clients with the tools, strategies, and laws that affect your business so you don't have to.  Part of the value added services we provide on an ongoing basis that separates us from other firms. Do you want to be part of this winning marketing team that has your back covered? Contact us now @ info@getjackedaboutit.ca or visit our website at www.getjackedaboutit.ca
1 Contributed by: Michael Geist, the Canada Research Chair in Internet and E-commerce Law at the University of Ottawa, Faculty of Law.
2Contributed by: Sheena M. Mitchell, Corporate Lawyer