Today was the day we were going to be on the road for a while.  We were originally supposed to travel to Vienna from Salzburg today.  But since Rob had an accident during his cycling tour, we needed to drive to Innsbruck first to go to the hospital to have the stitches in his lip removed.  His appointment was for 8:30 am (I think), so we got up early, ate breakfast so we could get on the road and travel 1.5 hours west to Innsbruck.  We figured if we left by 7am we would be good.  We ended up being a few minutes behind, then we got to the car and programmed in the address for the hospital in Innusbruck and the ETA was 10:30….WHAT?  The GPS took us on this crazy back roads adventure all the way to Innsbruck.  It was beautiful but now we were sooo late for the appointment. We drove through some Alps, and it was very very beautiful so at the end of the day, it was really nice to see what we saw.
We finally arrived at the hospital, which the faithful GPS took us straight to….and got help getting to the location Rob needed to be in.  We waited in the waiting room for about an hour, then he was in and out super fast, with again amazing, friendly service. With some helpful tips for driving in Vienna as well…."Don't do it"…LOL.  Come on, it can't be that bad can it?
Time for lunch, but it had to be quick because we still have a long long road ahead of us.  We still have 476km to get from Innsbruck to Vienna and it is already just after 12:00.  So, roadside McDonalds it is….sorry to say.  but yes, we stopped at McDonalds.  And you know what? They have curly fries….the best damn curly fries I have ever had.
We drive and drive and drive to Vienna….when we get to Vienna, it is huge.  We kept driving and driving, into the city….through the city….and then the GPS turned on us.  From this point on, she is no longer referred to as the nice GPS…she is the devil voice.  She was telling us to turn when it was too late, telling us to make U-turns when we were sure we went the right way…and after retracing our steps 3 times, we finally went the right way.  Just in time for Rob to say "I though you said this hotel was in the city"….and I said "it is…I don't know…maybe there is more city on this side of the hill?".  We then the Devil voice tells us to make a left…so we turn left…into an alley….AN ALLEY in a totally residential area and she says "You have arrived at your destination." WHAT??  Turns out, that when you print your itinerary from Expedia…the accents and little added things to German letters are not translated…FYI when programming in an address…there is a HUGE difference, about 20 km and some 600 lbs of patience,  between a "u" and "ü".
So a quick phone call to the hotel, Deutschmeister, Vienna to find out what the cross street is, so we reprogram the address in and it turns out we drove by it a couple times.
Now, I have to park the car…so I drop off Rob, he has had enough driving for the day, and rightfully so after the nightmare we just went through. (poor guy) So I leave him at the hotel with the bags and some hotel guy gets in the car with me to drive to the car park.  So out the driveway we go, we make a right, and a right, and a right, and a left, and a right, and a left, and a right, and a right, and voila we are there…simple right? HELL NO! where the heck am I? How am I going to find this place when we leave.  OK, so one thing at a time…first, finish parking the car.  So I drive up the ramp and the guy says, "You can park here".  I look and unroll my window and said "Are you serious?".  he says yes, it is the only spot we have.  To be clear, parking in that spot was a little like giving birth.  You are asking me to fit this in there? Are you serious?
OK….deep breath, I pull in the mirrors and I position the car to back in.  I did it!  Clearly even he was amazed and had his doubts cause he gave me a high five for the feat.
Now, let's find the hotel….we walk out of the car park and make a left…and there it is.  WOW!  Vienna is riddled with one way streets…not just regular one way streets, but one way streets that only go 1 block.  I parked the car and we didn't think about it again until we left the city.
Walking back to the hotel I check in, find Rob and go to the room to drop off our stuff.  After the long long day, we needed to relax.  Once we cleaned up and relaxed for a few moments, we decided to venture out into the city to check it out for a bit. What else do you go to eat? Beer and Schnitzel.  And why not at the WeinerWald.  It may be like an Austrian Denny's….but it was soo good and very inexpensive compared to everything else around.  Good find Robert, a huge pat on the back for that place.  The night is wrapping up for us, but Vienna at night, even at 10pm on a Wednesday, is just getting started.  Good night Vienna. Until the morning…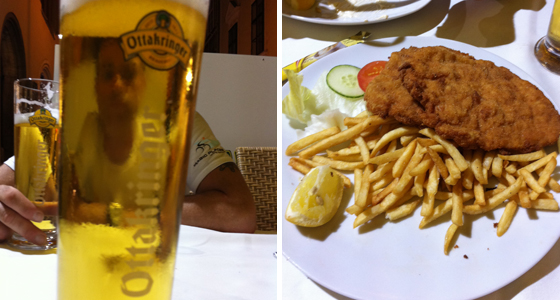 PS.  Rob, don't forget about the Eastern European Family with the shady body guards and their sunglasses at 10pm.  Yes, a big family went to eat at this place while their bodyguards stood outside.  Makes one question, who are these people that they need a bodyguard…and it they have bodyguards…can't they afford to eat at a better establishment? hmmm…something doesn't add up.