Up and at it bright and early, we head over to the breakfast buffet where I get my first taste of hotel breakfast buffets.  Breads, cheeses and meats…pretty much what my diet consisted of for the rest of the trip.  Absolutely no complaints though…cause seriously…YUM!
So, we had to all be up fairly early since we were catching the shuttle bus to the airport so that we could wave fair well to a couple of Rob's friends, ship his bike home with them and pick up our rental car.  We hopped on board the shuttle bus and not only was that women a cantankerous old bat, but she was a bad a** driver.  Good thing I have decent bladder control…she was one scary driver….small road + bid shuttle bus = passenger tears…well almost.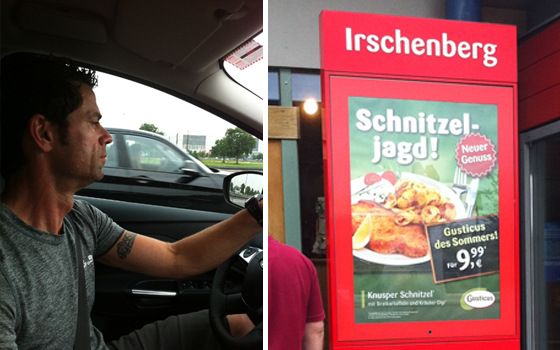 Nonetheless, we wave goodbye to Rob's friends and his bike to go get the car.  We grab the car and attempt to program in the first destination.  The "All You Need Hotel" in Salzburg, Austria….BUT, the GPS…in German.  Oh man!!!  It was a good 5 minute walk to the car from the rental place…but luckily, there was an attendant checking cars so we asked him if there was anyway to change the GPS to english….phew!  thank you Mr Man.
Now that we are all speaking the same language we program Mrs. GPS to take us to our first destination.  She (the GPS) is very friendly, a nice lady voice, gives ample warning for the next turn…so far very pleasant.  She gets us onto the highway and off we go.
Now we know that we have to purchase a Vignette before we get into Austria.  This is the highway toll tax that all cars need to pay.  There is a little sticker that get put onto the windshield of the car…you can purchase a 10 day pass which was the perfect amount of time for us.  Now that we have that covered, we continue on our way and pass through to Austria.  The trip from Munich to Salzburg is not that far at all.  Mrs. GPS took us straight to the hotel, she was brilliant and we thanked her countless times for being excellent.  (Weird, ok, maybe…just wait till Vienna…our tune changes, but all in good time.)
We are checking into the hotel in Salzburg early afternoon.  The hotel is called "All you need hotel"…it truly is…all you need.  The room was fairly small compared to all the other rooms we had in Europe and Rob found the bed to be too hard. (It was ok for me though)  The furniture was pretty much straight off the Ikea floor display….but it was clean, the staff were very friendly and it was in a good location. It included breakfast and was under budget, so it was a total score.
Disclaimer: I should mention, I tried my hardest to spend under $100/night.  I booked the hotels months in advance, so not only did we get early booking discounts, but we also received discounts for booking 2 nights or 3 nights as well.  So I did pretty good for our budget on hotels.  We have no complaints about anywhere we stayed at all.  All hotels were clean, friendly and in very central locations.
We have checked into the hotel now and we head off to explore.  We walk around the whole city centre that afternoon.  You certainly don't need a lot of time in Salzburg to see the main city centre.  We found ourselves an outdoor beer hall type place, ordered some dinner and beers and enjoyed the outside atmosphere while eating schnitzel and beer.
I got poop on!
Yes, that is right…While holding the handle for my beer, a bird sh*t on my arm.  Lucky little sh*t it didn't poop in my beer…I would have climbed that tree, so help me.  But alas, just poop on my arm…(later we learn this is the true reason why beer steins have lids)  So wipe it off, have a good laugh, enjoy the rest of the meal…drink more beer…and walk around some more.
We decide to retire later that evening…looking forward to Day 5….another day in Salzburg.
A few photos for you:
(left: Mozart's House | right: Rob sad he can't buy Mozart balls cause it is closed)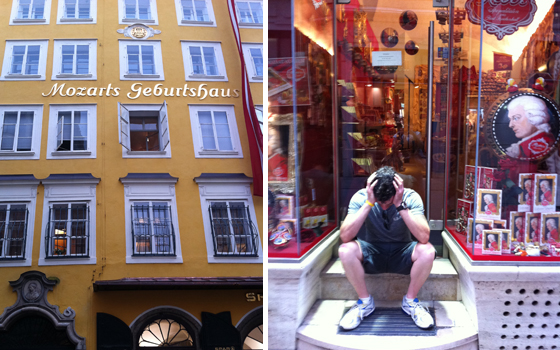 (Left: Our first Road Trip dinner  | Right: wow, Robby Bubble, who knew)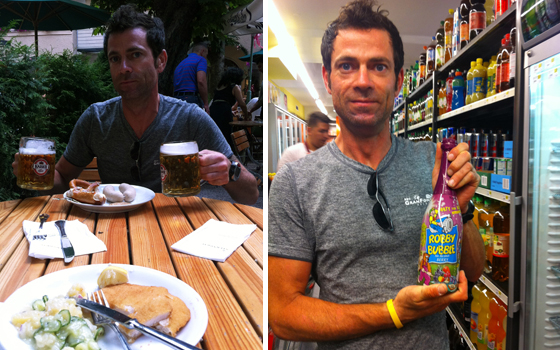 A City Centre Map: